A very accurate depiction of what happened at the Guardian Australia offices a short time ago, when we announced the winner of the Guardian Australia/Birdlife Bird of the Year poll.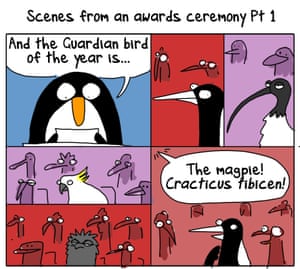 Thunderous applause for the Australian magpie. Illustration: First Dog on the Moon
A brief discussion of ducks
We didn't include any species in our original list, an oversight that many of you sought to correct by writing in your own vote.
Most popular was the Australian wood duck, Chenonetta jubata, which, I hate to break it to you, may actually be a goose. Either way, it got 15 votes.
Next was musk duck (Biziura lobata) with 11 votes, followed by the Pacific black duck (Anas superciliosa) with nine votes and the pink-eared duck (Malcorhynchus membranaceus) with seven votes.
There were two votes for the blue-billed duck (Oxyura australis) and one for "blue-billed dick", which I'm going to hope was the same thing.
We also received seven votes for "duck" and one for "duck <3" which I think should count as at least two votes.
There were two votes for the Radjah shelduck or burdekin duck (tadorna radjah) and one apiece for whistling ducks, both wandering and plumed.
Opinion is divided.
Christmas With Mark Hollis (@ThePhilby)

[Piping Shrike swoops in, carries off with #BirdOfTheYear trophy from under the unsuspecting beaks of the lesser Australian magpies]
chaise (@cbish38)

what did they do to win it??? they ain't nothin but a hazard if you ask me! the bin chicken was much more deserving! #BirdOfTheYear
David Beattie (@dabeattie99)

My old bike helmet would agree that the magpie makes quite an impact on society – and gives us all a (adrenaline) buzz when we see them (especially in September/October) #BirdoftheYear #jerkoftheyear https://t.co/RcM2aFSZy3
Andrew Rodda (@Andrew_Rodda)

Australia has restored a small piece of global sanity with the election of the Magpie. #BirdOfTheYear
🦄 Flip Prior 🦄 (@FlipPrior)

The murderous, vicious, beady eyed monster the magpie has just been named Australia's #BirdOfTheYear … one of those little bastards tried to peck out my eye in Darwin two years ago!! pic.twitter.com/NGGo3eonNn
Ms Mouse (@tlmouse)

Pretty outraged by the #BirdOfTheYear result tbh. Yet another election with a disappointing outcome.
Catherine Cavallo 🌈 (@CavalloDelMare)

AUSSIE MAGPIE WON! I AM SO HAPPY!
Well done little mates! #BirdoftheYear #magpies pic.twitter.com/dIsb02rFcJ
Over on ABC News Breakfast, Birdlife's Sean Dooley has been explaining the appeal of the magpie which, on the surface, seems like a fairly conservative choice.
(Indeed Guardian Aus deputy editor Will Woodward thinks the popularity of the magpie and white ibis shows the essential conservatism of the Australian voting populace. I think it means shows the essential Australian desire to vote for the underdog – both species are much-maligned.)
Here's Sean Dooley:
Magpies are easily tameable and people have a great connection with them. They love to feed them. Clearly, there are a lot of people out there who have a special relationship with a magpie.
On the ibis, often described and dismissed as a "bin chicken," Dooley said:
This is our Ibis McIbis vote, they are remarkable birds and they're resilient. People don't like them because they come into the cities, like Sydney or Brisbane, and steal your lunch out of your hands or go into the bins. But they only do that because their natural wetlands in the Murray-Darling have been drained and altered so it is not suitable for them. The Prime Minister talks about being agile and adaptable – the ibis embodies that Australian spirit.
The decision has not been universally popular.
Stephen Murray (@smurray38)

Disgraceful. Notice how the Graun announced this the week after Parliament rose for the year…

WHERE QUESTIONS WOULD BE ASKED! https://t.co/Lmaj1OZiWG
Our new overlords.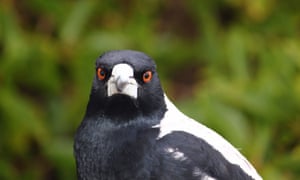 You shall call me king. Photograph: Alamy Stock Photo
Surprising everyone who has put cable ties on their bicycle helmet to ward off an attack, this year's bird of the year is the Australian magpie (Gymnorhina tibicen) with a whopping 19,926 votes – that's 13.3% of the total votes.
I'm not saying this was First Dog's doing as unofficial leader of the Any Bird But the Ibis coalition, but I'm not saying it wasn't First Dog's doing, either.
First Dog on the Moon (@firstdogonmoon)

it is time for a tactical retreat – if you are abbti (any bird but the ibis) then you must vote magpie – it is the only bird with a chance to catch it – and magpies are pretty great
Nipping at its heels was the Australian white ibis (Threskiornis molucca) with 19,083 votes, or 12.7%; followed by the laughing kookaburra (Dacelo novaeguinea) with 10,953 or 7.3%.
The top 10 are:
Australian magpie
Australian white ibis
Laughing kookaburra
Tawny frogmouth
Superb fairywren
Rainbow lorikeet
Willy wagtail
Wedge-tailed eagle
Southern cassowary
Splendid fairywren
The popularity of the #BirdOfTheYear poll surprised even us, an office full of warring bird nerds. We understand many of you have taken issue with the limitations of our voting system.
Indeed, the University of Melbourne student union passed a motion condemning Guardian Australia for failing to provide preferential voting.
To which I'd say: let's just focus on the birds, hey?
Portrait of a ruthless killer
In case you forget, birds are just feathered dinosaurs.
🎄God rest ye merry Chris Gentle-men (unabridged) (@crgentle)

Australia's best bird feeding parts of Australia's second best bird to its chick. pic.twitter.com/bRStv8I5EO
For those wondering, the bird being used as a snack here is either a cockatoo or a corella chick. Slightly morbid, but as kookaburras routinely eat snakes and other reptiles it's not really that surprising.
Nature, ain't it grand?
A very considered opinion:
Ghost of Christmas Present (@oberonsghost)

I love the #binchicken, but adore the #currawong more. It's almost time for #BirdOfTheYear
Currawongs have a beautiful song but I must confess my opinion of them is coloured by the 1990s Silver Brumby cartoon, which depicts the currawong as Zazu but without Rowan Atkinson's charm.
Calla Wahlquist (@callapilla)

They are beautiful but I always think of this guy: pic.twitter.com/AVMxPmTxsT
Listen to their beautiful music.
Jane O'Dwyer (@msodwyer)

The quiet birds of Australia. So quiet I had to pop outside to see what was going on. Enjoy the gentle song of the sulphur-crested cockatoo over Canberra. I hope it wins #BirdOfTheYear @GuardianAus pic.twitter.com/ojMzUilMWC
I know my colleague Steph Convery is barracking for the sulphur-crested cockatoo to win #birdoftheyear. She even feeds them, and spoke to experts this week who said that is OK despite warnings to the contrary.
According to Holly Parsons from BirdLife, feeding wild birds, provided you do a bit of research and pick the right food, is:
… really good for us, mentally and physically.
The oft-ignored King Island brown thornbill, named most likely to go extinct by BirdLife's threatened species committee, which is probably the worst yearbook award, received two write-in votes in the poll.
We also received four votes for the brown thornbill, Acanthiza pusilla, which is found down the east coast and in Tasmania. Said one voter: "I have them in my garden. They are tiny with beautiful flittering activity. A classic twitterer."
We did get four votes for the tiny, adorable Mallee emuwren. Look at it, though – it clearly deserved more.
Calla Wahlquist (@callapilla)

Reminder that Mallee emuwrens exist and are wonderful. pic.twitter.com/sTS5ilDQgr
They weight the same as a teaspoon of sugar! Their eggs are the size of peas!
Sadly, despite me shilling for them and other little brown birds in this article, the King Island brown scrubtit did not receive a single vote.
All your bird photos are better than ours
On Friday night we asked you to send us your bird photos and you responded in marvellous form with photos that, frankly, we had to check to make sure you hadn't nicked them from Google images. THEY WERE THAT GOOD.
Here are some of my favourites:
Carnaby's cockatoos, endemic to Perth and southwest Western Australia. A juvenile Powerful owl. Pack of flamin' galahs. Terrifyingly close close-up of an ibis's eye.
You can add your own photos here.
It's time. After three weeks, one automated voting scandal, several social media campaigns and 149,848 votes, we will finally learn who the public has chosen to be Australia's 2017 bird of the year.
Nick Evershed 🦃 (@NickEvershed)

seeing some fairly suss voting activity on the powerful owl front 😬
Thank you for joining us at this early hour. There's an opening here to talk about early birds and worms but that kind of frippery would imply this is anything but serious, and that will not do. If the past three weeks have taught us anything, it's that the Australian public holds very firm and passionate views about its birdlife.
The results will be announced at 7.45am by Birdlife's Sean Dooley on ABC news breakfast, as well as here on this blog and through Periscope and Facebook Live because this is the most exciting thing to happen at the Guardian Australia offices for several months and we will not play it cool.
Grab a coffee, take a recording of the birdsong outside your window and post it on Twitter, and let's settle in to see the results. You can follow along with the #BirdOfTheYear hashtag on the social media of your choice, tweet us at @GuardianAus, and tweet me at @callapilla.
Yes, my avatar is a cassowary. That's not a giveaway.
Let the countdown begin.
Australia news | The Guardian